Bring In the Magic of the Season with Holiday Decor
Happy Holidays!
This beautiful season is upon us and I can't think of a more magical time. I'm all about the new thought that the Christmas Holiday Season begins on November 1st and goes through January 1st and that the celebration of Thanksgiving is for that one day. Sign me up, I'm in and my decorating starts earlier every year!
After all, it's hard to resist the magic of the season, the lights, the trees, the colors, the music, the cool fresh air and the hint of special surprises to come. The world slows down just a teeny bit and everyone becomes just a little bit kinder. You can feel the love and the light returning at Winter Solstice and the hope building for the new year to bring good things to all.
The older I get, the more I enjoy decorating for the holidays, and that's saying a lot, as decorating for holidays, parties and the home in general has always been one of my greatest joys. Now though, I'm able to savor these moments a bit longer, and appreciate what every aspect of the décor brings to the home and to those who enjoy it. I especially love creating touches of whimsical delight using an array of warm colors to wash over the room, which gather the energy and invite those who are here, to linger and enjoy.
This is what good interior design does, it evokes a mood using texture, light and color that affects everyone's mood in a positive way. Though the trends change each year and I'll be discussing this in a minute below, the theme of the holidays stays the same. It's all about decking the halls, making things jolly and adding personal touches to make your home reflect your personality and beloved traditions.
So without further ado, let's take a peek at how decorating is going here at my home…
First up, is my front door wreath. Your front door sets the tone for your home. What you hang on your front door lets the world know what to expect when they enter your home and see the rest of the décor.
For example. If your front door wreath has Santa on it with his reindeer in bright primary colors, we'd expect to see a family with young children living in this home.
If your wreath is more rustic, mostly bare branches with a few berries, we might expect to see this as a current trend (that is just about out of style by next year), but also a traditional look that will remain for country homes and ski lodges going forward.
The new trend starting this year and picking up steam for 2022, is to use bolder pops of color! We are leaving minimalism behind and swinging the pendulum over into maximalism. This begins with bold rich color and lush textures like velvet, leather and chenille.
This year for my front door, I mix the current trends with the upcoming trend, by upgrading the look from the now going out of style rustic look. So my wreath is much fuller, I've used a large organza ribbon in a very robust red color and added red leather to the wreath accentuated by jingle bells. Next year I expect my wreath to be much more ornate.
My front door always has the topiaries and I've simply added the same gorgeous red ribbon to adorn them. The mistletoe sign adds a touch of whimsy and harkens back to a simpler time at the holidays, creating that traditional Christmas feel, that so many people are looking to connect with, after such challenging times through the pandemic.
Simple garland and swags frame the front window and a traditional red snowflake pillow warms up the bench next to the lanterns. If I was living in a colder climate, I would have added an old pair of white ice skates next to the bench, to reflect on the traditions of the holidays that many hold dear.
On the other side of the entrance, my lion sentry gets his own ribbon, and the wreath hanging above him gives a nod to how holidays will be decorated next year. The upcoming trend is much more lush and grand in look and scale. This look is coming back in a big way!
My outdoor furniture, (you may recognize from my Halloween décor posts), stays put. The lanterns have fresh red bows, a sentimental Holiday pillow has been added and small scrub tree tops it off. It's a generous space to enjoy outside with some hot chocolate and good conversation.
Inside of the home, I can't leave that front door bare on the inside, so I've added a red berry swag with ribbon and bell to the door. I've given the hint at the front entrance that red will be a strong color in my décor this year and I'm embracing it in a big way. My Christmas Eve dinner is going to feature red plaid in a theme that I'm calling Celtic Forest Castle. I don't have the photos to feature this design yet, but I will be sharing it in posts to come.
As we enter the decked out hallway, I've stayed traditional with garland and stockings and smaller topiaries that all have lights set on timers to turn on each evening and give this area a warm cheery glow.
Over in the breakfast room and kitchen area, my mantle once again is graced with greenery and red berries to tie in with the first of my two trees in my home.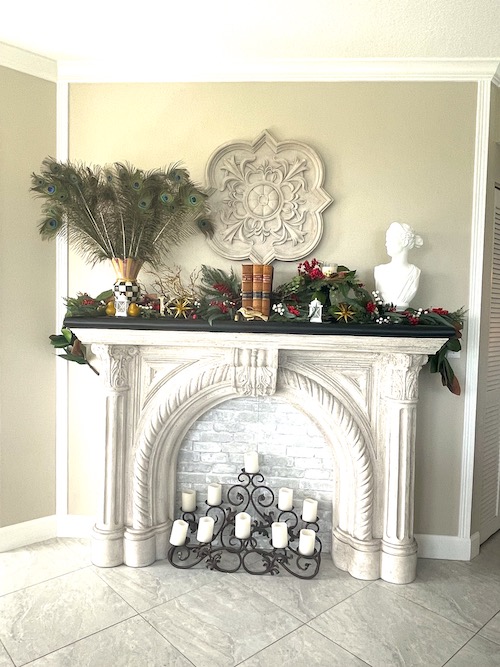 Here's my first tree, her name is Scarlet and she's glorious. She has a companion this year, and he's decked out in the new trend of velvet in this rich red color with gold accented horns. Expect to see many more home décor items covered in velvet like this to come.
Stags are very popular this year and will continue to be for some time coming. They represent a connection to nature, give a sense of peace and wonder and a return to the maximalism style that I mentioned, of having grand homes where you show your taste and style in extravagant décor.
Using animals in décor is a very popular trend right now, including elephants, peacocks, panthers and deer. Here's my second stag, in silver. He's gorgeous on his own and the bowl he holds in his antlers serves as punch bowl or ice/champagne bucket.
The coastal look, is always very much in style as a staple. The look now will move into two fun directions, the first is adding touches of the coast, like seen in traditional Victorian homes, where they showcased their travels by bringing back beautiful souvenirs and this was incorporated into the design. For example, instead of a room being decorated to just like the beach, it could have warm tones and dark woods, but under a glass cloche there would be a stunning collection of seashells on display and other items that remind one of the coast, without the entire room looking like a cottage at the beach. The second trend is to move from the white washed cottage feel into the bright cheery colors of Palm Beach Vintage style including lots of pinks, greens and yellows.
I still love my rustic French country dough bowl and I've added rustic touches into it for one more season, mixing soft balls with metal ones to keep it interesting. For most looking at it today, this looks right on trend, but the designer in me knows its days are numbered, so I'll squeeze this last season out of it.
Over in the formal rooms, we're getting a bit more glam with my second tree, Chloe. She sparkles and is a true city girl, where Scarlett is more at home in the forest. Chloe has her gargoyles flanking her at both sides and she's ready for the holidays and to continue on right into a New Year's Eve party. Over sized ornaments hang in the window to fully frame her look.
This year she received the addition of a Moss Green Ball in silver stand with matching ribbon to her dress.
Soft velvet chairs filled with Mackenzie Child's pillows and throws in hues of green sit next to the tree and are ready to sink into in order to enjoy a cocktail or two.
To see the evolution of my Lady Trees and other holiday decor, check out other holiday postings on my blog, including this one.
The bar cart nearby is ready to go and the plaid napkins give a nod to how the dining room will be set for Christmas Eve dinner.
With so much going on in this room already, the console table is kept in more neutral colors with pops of gold to note the holiday season.
Santa's on his way soon, but always one to lend him a helping hand, my reindeer are packed up and loaded, ready to deliver just in time.
And the sofa pillows include mistletoe, so there's always a good opportunity for a kiss.
That's the holiday cheer going on around my home this year. From my home to yours, wishing you a wonderful season of love, light and always, a beautifully decorated home that brings you joy!
PS: If you want to know more about upcoming interior décor trends for 2022, check out my new podcast where I just dedicated an entire episode to talking about these trends!
ReDesign Your Life From the Inside Out!
Kala shares how mystical spirituality and intuitive awareness can help you live your best life.
Subscribe to her Free Newsletter for Tips on How to Intuitively Decorate Your Home and How to ReDesign Your Life from the inside out, one step at a time.
Subscribe